400th Anniversary Romanov Imperial Gala Dinner
September 23, 2013 • by
administrator
This year marks the 400th anniversary of the founding of the Romanov dynasty. The Romanovs ruled the country from 1613 until 1917.
In 1613, a council of more than 800 delegates from various parts of Russia elected Mikhail Romanov as Russia's Tsar.
The dynasty of Mikhail Romanov's successors ruled Russia for more than 300 years, until 1917. These three centuries were a glorious time for Russia. Within these years, the country's territory increased so much that Russia became the world's largest empire with a well-developed economy, very influential in the world. Under Mikhail Romanov's rule, new territories were added to Russia, a large network of manufacturers appeared in the country, and diplomatic relations with Europe's leading countries, as well as with Turkey and Persia, were established.
Romanov Quadricentenary Egg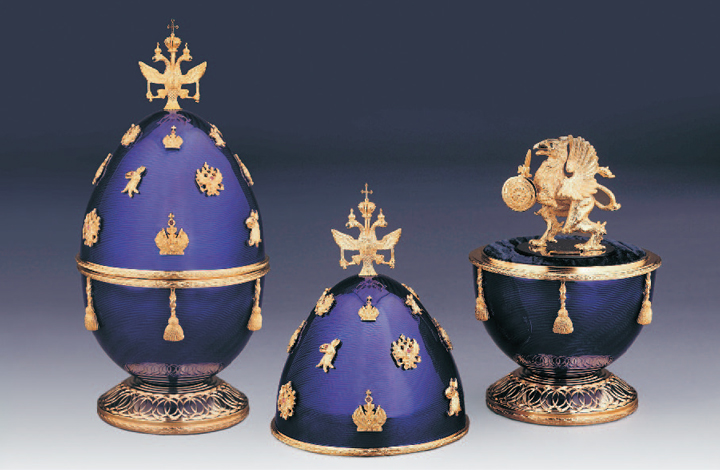 In 1913 Tsar Nicholas II presented his wife, the Empress Alexandra Fedorovna, the Romanov Tercentenary Egg designed and made by Carl Fabergé. This Easter gift was presented on 14th April 1913. For 2013 Theo Fabergé, grandson of Carl Fabergé, has designed the Romanov Quadricentenary Egg which will be presented to the City of St Petersburg. The theme of the Egg is the quadricentenary of the House of Romanov, which had been founded by Mikhail Fedorovich Romanov in 1613.
This Egg with 18 miniature decorations, celebrating the 18 Romanov Tsars, is created in solid sterling silver with sapphire blue royal guilloché enamel and 24 carat gold. The finial of the Egg is the double-headed Romanov eagle, but in fact a triple-headed eagle, so that from whichever angled viewed the double-headed eagle is visible. The base, ornamentally turned on Theo Fabergé's Holtzapfel lathe from 1860, again celebrates the 18 Romanov Tsars with 18 deep cuts and covered with pure 24 carat gold. The surprise within, the Romanov Griffen in sterling silver and 24 carat gold. The Griffen with sapphire eyes can be removed and displayed outside of the Egg.
Workmaster:  Theo Fabergé
Edition: 50 worldwide
Height: 20cm
---
Romanov Imperial Gala Dinner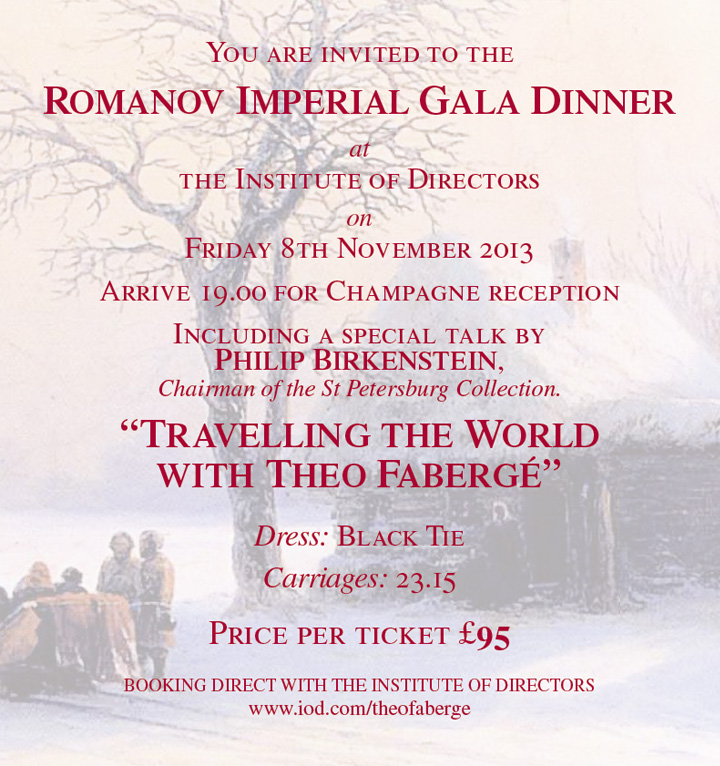 Institute of Directors – Pall Mall, Friday 8th November 2013
---